Experienced  Intuitive  Purposeful
Locally grown Selah Massage and Bodyw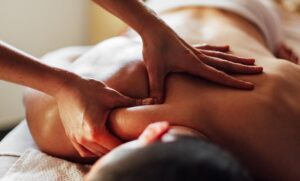 ork was founded to share our commitment of bringing pain relief and a restorative sense of wellness to the lives of our clientele. Selah cares deeply about our craft and cultivates an experience that consistently brings our clients relief. From warmed stones and lavender infused towels, to sessions that are custom tailored to suit your specific needs, we seek to deliver a profoundly purposeful experience.
Selah is an ancient musical term suggesting a pause for rest and reflection. I hope to provide a restorative space for you to be still; to rest, repair and renew.
Welcome, we're so honored to have you!
"With her knowledge of muscle anatomy, different types of massage, and soothing environment, Amy Ritter creates the ultimate massage experience. I declare with confidence that she is the best masseuse I have ever visited. She starts with a consultation about your trouble spots and then seamlessly works from one to the next using her time wisely to deliver you a richly customized, luxuriously relaxing and abundantly purposeful massage. Bye, bye, tension!"
– Veronica R. :: As reviewed on Google